Support Local: Sustainable Spring (Cleaning)
Written by Kailanianna Ablog
Cover Photo Courtesy of R Planet
With the change of seasons and Earth Month approaching, we at Valia Honolulu are ready for a sustainable spring! From closet purges to incorporating sustainable practices into your life, it is never too late to make conscious decisions that benefit our communities and - ultimately - our planet. Chances are you're already making eco-conscious decisions, especially if you use a Hydro Flask or bring home lunch to work or school. 

One of the most sustainable things you can do is continue to use what you have. Whenever you're ready to make some swaps and expand your knowledge on local resources, here are some places to start! For this blog, we made sure to include some spots on the outer islands as well, all of which are locally-owned. The following listicle is separated by the businesses and resources and the island they are based on: 
Hawaiʻi Island (Big Island)

: Hana Hou, Re-Use Hawaii (see "O'ahu" section), Circlepack

Kaua'i

: Keālia Organics, Refill.Kaua'i

O'ahu

: R Planet, Onekea Bros General Store, Protea, Re-Use Hawaii, Hānai Kaiāulu
Hawaiʻi Island
Courtesy of Hana Hou

Perpetuating island culture and honoring indigenous artisans are part of downtown Hilo-based Hana Hou's mission. Located at 160 Kamehameha Avenue, Hana Hou is "family-run business committed to promoting a wide variety of authentic handcrafted goods," including lauhala products, clothing, crafting tools, and jewelry.

In addition to these, Hana Hou also offers a plethora of eco-friendly, zero waste goodies.  For those that use reusable bottles, their wooden bottle brushes will come in handy; they even have a baby bottle brush for families that care for little ones! People who have returned to school or work in-person may find a use for their Kaukau Tins, perfect for bringing home lunch and keeping single-use plastic and utensils out of the landfills. Folks who use make-up but want to use sustainable products, Hana Hou carries Lip-to-Lid Balmies, "planet-friendly, wear-anywhere crayons" that can be applied to the eyes, lips and cheeks. 
If phasing out paper towels is on your eco-friendly consumption "To Do" list, then Hana Hou's variety of cloth towels and wipes may be the perfect way to start, with Organic Unpaper Towels, facial cloths and cotton facial rounds, and napkins available.
Courtesy of Hana Hou
If you are interested in cultivating a more zero-waste kitchen, they also offer silicone bowl covers and reusable Food Hugger sets to help preserve food or seal open jars or containers, Hugger Bags to store snacks, vegetables and fruits, and vegetable brushes to help prep your ingredients for cooking. You can also purchase a bulk refill of body wash! 

To our communities on the Big Island, please be sure to visit Hana Hou whenever you are visiting Hilo! Be sure to book your visit ahead of time. The shop is open Monday through Friday from 10 a.m. to 4 p.m., and Saturday from 10 a.m. to 3 p.m. They also ship out orders via USPS. To stay in the loop with all things "Hana Hou," sign up for their newsletters and connect with them on Facebook, Instagram, Pinterest and Twitter. 
Courtesy of Circlepack (Instagram)

During the pandemic, an increase of online shopping may have resulted in an abundance of cardboard boxes in your home. While folks may reuse their boxes for storage or as shipping material, the most common thing that people do is fold up the cardboard and toss it in the trash or recycling bin. While recycling is certainly one way to be sustainable, there are other alternatives. One such alternative is offered by Circlepack, who seeks to give cardboard a second life without sending them to the recycling centers or landfill. Based in Waimea on Hawaiʻi Island, Circlepack was founded by owner and operator Evan Lam. 

According to their website, Circlepack explains why recycling cardboard may not be the best solution to sustainably processing it: 

"Cardboard often takes decades to be made and travels thousands of miles  – both TO and FROM – Hawaii. The trees used in producing cardboard are often 50-70 years old, the same age as a grandparent. Those trees travel many miles to become cardboard then the cardboard travels again to become a box full of goods. It takes even more travel, people and fuel to get the boxes to us. They're opened and used in just a few minutes. When those boxes hit the recycling bins, they'll most likely be exported to Asia, burned, or buried in a landfill. It's expensive in terms of time, money, and energy. We'd argue that it costs us more than it benefits us, especially here in Hawaii." 

Using a HSM ProfiPack C400, which is manufactured in Germany, Circlepack shreds cardboard in order to give it a second life. As detailed in a blog post by Evan, the shredded cardboard has a plethora of uses including but not limited to garden and farm mulch, animal bedding, and as a composting ingredient for vermicomposting. The shredding process commences once the cardboard is free of staples, tape and string. The machine shreds the cardboard in a cross-cut pattern, allowing it to stretch, roll and fold; you can also cut it into your desired size or shape. For those needing an alternative for packing peanuts, the cardboard can be shredded into confetti-sized pieces that can be composted once you're done using them! 
Courtesy of Circlepack (Instagram)
Circlepack offers many ways for the community to partake in this movement. Folks can partner with Circlepack and host community days where people can stop by with their cardboard and have it shredded. For those who are unable to or do not have access to transport, they also offer onsite shredding and will bring their machine to you. Businesses and organizations who would like to incorporate sustainable, compostable packing materials into their processes may also consult with Circlepack about their wholesale delivery (for their shredded cardboard mats and cardboard confetti) and consulting services. 
If you're interested in their services and/or want to follow their journey, stop by Circlepack's Instagram and Facebook pages! 
Kaua'i
Courtesy of Keālia Organics
If you are seeking to lessen the amount of plastic in your household, a great first swap to consider making is trading your plastic shampoo and conditioner bottles for bars! Whenever you are ready to make the switch, Keālia Organics is ready to support you on your sustainable journey. 
Based in Kaua'i, Keālia Organics is a Kānaka Maoli (Native Hawaiian)-owned business that focuses on aloha 'aina, or "love of the land," in all things. Using all-natural ingredients, this brand creates "artisan shampoo bars, conditioner bars, lotion bars, soap bars and more!" From Coconut and Kukui and Charcoal hair care bars, Jasmine lotion bars, and facial cleansers, Keālia Organics offers gift sets for those interested in stocking up on plastic-free body care products and/or wish to give the gift of plastic-free alternatives during the holidays. Additionally, they carry eco-friendly home goods such as Dish Bar Soap, Soap Saver Bags, and Unpaper Towels which feature one-of-a-kind Hawaiian floral designs and are hand-sewn. 
Courtesy of Keālia Organics
In tandem with aloha 'aina, the brand values the practice of supporting local and zero waste. When it comes to packaging, all of their products come in their raw bar form or packaged in recyclable and/or compostable materials. According to Keālia Organics' "About Us" tab, they explain the significance of this and why it goes hand-in-hand with aloha 'aina.
"We took a zero waste vow. A vow of aloha 'aina, to love and protect our land. This is why we create zero waste products, to preserve our land by eliminating plastic waste in our daily routines," They write. "We strive to reduce plastic waste within our islands as well as around the world. Our products are a vow to our earth, to protect it, to raise awareness, and to provide people with natural zero waste alternatives!"
Their items are also a product of cultivating relationships with farmers and fellow small businesses.
"Kealia Organics sources as many services locally with other small businesses and entrepreneurs. From ingredients to designs and packaging and more, we try as hard as possible to support local in order to close the gap and to encourage others to do the same!," They write. "Working with local farmers and artisans will lead us to a more self-sustainable future, and we want to be able to empower that as much as possible. Know that with every purchase you are supporting a long list of artisans, entrepreneurs and farmers!"
Keālia Organics also mentions that all their ingredients are natural, sustainably sourced and organic. They also use 100-percent pure essential oils. 
You may purchase their artisan products via their website and in various stores across the islands, including Keep It Simple Honolulu and Protea Zero Waste Store, if you are on O'ahu. For our community members in California, you can find Keālia Organics products at BYO Long Beach at Rooted. You can stay connected with Keālia Organics on Instagram and Facebook! 
Courtesy of Refill.Kaua'i
In tandem with using reusable products, utilizing refill stations is another great way to reduce the amount of waste that goes into the landfill. For our communities on the Garden Isle, 
Refill.Kaua'i offers a clean space for folks to refill their various home goods and try out new eco-friendly products!
First established in 2018 by Kristy and Ariana, Refill.Kaua'i began as a way to incorporate their skill sets and the concept of Aloha into how they worked: 
"Our shop was initially established in 2018 with the express interest in using our various skill sets to serve and spread Aloha through the way we do business," Kristy and Ariana write. "Graphic designer, builder, print maker and artist came together in hopes of offering a curated mix of authentic enduring goods that were both functional and beautiful for a healthy home and lifestyle here on Kaua'i."
When COVID-19 hit, Refill.Kaua'i was given the opportunity to align with one of their longtime goals: to offer the Garden Isle a means of cutting down waste in a practical, accessible way.
"Fast-forward to March of 2020 when government officials encouraged the closure of all non-essential businesses on Kaua'i, we closed our brick-and-mortar shop which naturally led to a massive re-evaluation of how our business could survive.  Although our shop had been successfully gaining momentum since opening in 2018, it was clear that our dependence upon tourism was not sustainable and we had to implement a shifting of gears to adapt," They write.
"Our biggest challenge turned out to be our biggest blessing in disguise because we ended up pivoting the direction of our business to serve our own local community to the best of our ability. Our longtime goal was finally able to come to fruition in offering Kaua'i a practical solution to substantially cut down on waste while simultaneously carrying necessity items that were both effective & safe for the island."
Dedicated to inspiring others to "LIVE CLEAN," Refill.Kaua'i sells products made with functionality, beauty, the environment and preservation of our future in mind. From home and gardens goods such as corduroy bags, Fair Trade-Certified organic washcloths and OEKO-TEX bedcovers to Baby & Keiki products like "Cheeky Bits Wipe Solution" and swaddles, there are a plethora of swaps to try out whenever you are ready. What's more: they also have a refill station that allows you to stock up on things like All-Purpose Cleaner, Laundry Pods, Dish Soap and Baby Wash. In their FAQs, they also offer tips on how to best prepare for your refill station visit, including how to sanitize your containers for reuse. 
Courtesy of Refill.Kaua'i
Regardless of what products you purchase or refill, Refill.Kaua'i hopes that their items and services makes living an eco-conscious life easier to access and encourage people to waste less: "Our hope is to make your transition to a more sustainable life-style as easy and desirable as possible because regardless whether this is your first step into this journey or you're a long-time zero-waste advocate, every little step matters."
If you're interested in checking them out, be sure to visit their website, subscribe to their newsletters, and follow Refill.Kaua'i on Instagram! 
O'ahu
Courtesy of R Planet (Instagram)

The type of media we consume can change the way we see the world. For O'ahu-born twins and college students Raina and Rhema Wong, a series of documentaries on environmental issues inspired them to consume less and give more to the Earth in a healthier, productive way. 

According to their "R Story" tab, Raina and Rhema mention that, like with many new things in life, they started small. 

"Our environmental activism started with our friends and family. As soon as we learned about sustainable alternatives, we slowly incorporated them into our lives," They write. "Our Dad bought us our first Bamboo Utensil Kits for our birthday one year, and our Uncle gave us our first Reef Safe Sunscreen for Christmas - these were stepping stone alternatives that led us to make more changes!"

Inspired by their interactions and wanting to share their insights, Raina and Rhema founded R Planet:  "We became inspired to share about our sustainable journey and insights with a larger audience. This is where R Planet was created. It is a way for us to share our values of living simply and sustainably with products that are healthier for our bodies and ouR Planet."

From silicone sandwich bags, dental floss made of bamboo fibers and activated charcoal, to reusable menstrual pads, R Planet, sells a plethora of zero waste and sustainable products that are all ethically-sourced, many coming from Hawaiʻi-based/made brands such as Little Hands Hawaii, Kapa Nui Nails, and Bee's Cotton Wrap. Raina and Rhema also create some of the items sold in the shop, all of which are made without toxic chemicals such as parabens and sulfates; these products include their Dish Soap Bar, Lip Balm and Dry Shampoo. 
Courtesy of R Planet

For those living on O'ahu, R Planet currently offers island-wide local delivery every Wednesday (though the day is subject to change). For folks off-island or elsewhere in the world, R Planet ships your orders out using 100% recyclable, reusable or compostable materials and offers package-free options or recycled containers. 

A neat point: regardless of whether you opt for local delivery or shipping, you will have the option to plant a tree with each order you place! 

If you are looking for eco-friendly products to try out and want to support a woman-owned business, consider checking out R Planet and keep up with them via email newsletters and Instagram!
Courtesy of R Planet

Onekea Bros General Store
Dedicated to inspiring others to live aloha 'āina every day, sustainable living is at the core of Native Hawaiian and māmā-owned Onekea Bros General Store. Founded by Kaimuki resident Kawehi Onekea, her business is named after her sons, who assist with brand operations.  
Courtesy of Onekea Bros

According to their "About Us" tab, the mission of Onekea Bros is to help "eco-conscious consumers to reduce their environmental impact by providing high quality, reusable kitchen products and zero-waste cleaning and personal care products that aren't harmful to people or planet."

The business carries a variety of eco-friendly products perfect for all your kitchen, cleaning and personal needs. They also partner with vendors who create their goods in the islands and sell locally-crafted, sustainably produced and authentically local items.

For those looking to make their cooking spaces more sustainable, Onekea Bros has you covered with oval veggie brushes, beeswax wraps,  cotton napkins, reusable cutlery sets, and more! A fun fact: their exclusive, multi-functional Kaukau Kits, made in collaboration with Rix Island Wear, feature bamboo utensils in a bento-carrier/wrap made of Rix fabric remnants. 
Courtesy of Onekea Bros (KauKau Kit)

Eco-friendly cleaning is also made more accessible thanks to Onekea Bros, as they offer items such as Wool Dryer Balls (which come as a single ball or in packs of four or six and has gray/white as color options, along with designs such as a Heart, Bee, and Penguin), UNpaper Towels (available in 6- and 12-packs),  and a cleaning cloth that fits your Swiffer! 

A few other cool, sustainable knick-knacks they carry include their various body brushes, Beeosporen, and sets, which bundle together a few products based on themes such as "Bathroom Essentials" and "Cleaning." 
Courtesy of Onekea Bros (Lemon Cleaning Set)


You can find Onekea Bros online, every Sunday at the Lōkahi Kailua Market or you can pick-up your orders in person at Waiwai Collective in Mō'ili'ili on Thursday or Friday. Those in the Ward area can visit the Onekea Bros pop-up at Pili Pacific Tuesday through Saturday from 11 a.m. to 4 p.m; they will be there until the end of April 2022! If shipping is your go-to, Kawehi reuses shipping supplies for all orders as a means to reduce the waste that goes into the landfills. 

If you are interested in their socials, you can find Onekea Bros on Facebook and Instagram! 

Protea
Courtesy of Protea
Climate change and dependence on fossil fuels are some of many prominent environmental concerns people learn about when transitioning to a low-/zero-waste lifestyle. For environmentalist, policy advocate and business owner Lori Mallini, witnessing the beginning and end life of plastic inspired her to open Protea, a zero waste store that "was created as a response to the world' plastic pollution and waste epidemic of which the beauty and cleaning industry are a large part." 

The store, which is located at 35 Kainehe St., also seeks to encourage positive change on a community level by offering plastic-free, natural products and access to refills; some items are local and come from Hawaiʻi-based vendors. Protea is open Monday through Friday from 10 a.m. to 6 p.m. and Saturday to Sunday from 10 a.m. to 4 p.m.

According to the "Meet The Founder" section under Protea's "About" tab, Protea's core values reflect Lori's passion for lessening the negative effects human activity has on the planet. Prior to living in Kailua on the island of O'ahu, Lori, originally from Houston, Texas, grew up near the largest petrochemical hub in the United States. While there, she witnessed the beginning stages of plastic pollution and the negative effects of it on the surrounding communities. In the Hawaiian islands, our waters and fauna are affected by the end life of this pollution, and Protea is one way Lori believes we can "strengthen our community and reduce dependence on foreign product…" 

Along with zero-waste home and kitchen goods including Tru Earth Laundry Strips, Swedish dishcloths, and machine washable sponges, Protea also sells a variety of eco-friendly cosmetic items such as brow balm, bronzer and foundation and products for the babies in your life like bamboo bowls and plates and sunscreen. They also have compostable doggy bags for the times the doggos have to go number two! Folks interested in making zero waste swaps may find Protea's Zero Waste Kits, which include Zero Waste Starter Kits, Hair Kits, Shave Kits and Kitchen Kits, extremely helpful. 
Courtesy of Protea

Protea also has multiple items available for refill, from cleaning products (i.e., liquid castile soap, plant-based disinfectant, and multi-surface floor cleaner), personal care items (i.e., bath salts, body oil and lotion, facial cleanser and serum), to cosmetics. You may bring a clean container to the shop or purchase one in store to start! For those interested, Protea details their refill process under their "Refill" tab, and allows you to see what ingredients are in their refill options for those curious or concerned about allergies.  
Courtesy of Protea

The next time you are in Kailua, consider stopping by Protea! In the meantime, follow them on Instagram, like them on Facebook and check out their Pinterest. 

Re-Use Hawaii
Courtesy of Re-Use Hawai'i
Whenever you're in search of building materials or other home items, consider stopping by Re-Use Hawaii! Located on 200 Keawe St. on O'ahu and Allied Quarry Road in Kailua-Kona, Re-Use Hawaii is a "local non-profit organization that reduces waste and provides the community with affordable building material resources." The organization was founded in 2006 by Selina Tarantino and Quinn Vittum, who met in 2005 at an EPA-sponsored conference in Atlanta, Georgia. 

According to their "About" page, the non-profit is a member of Build Reuse, a national organization with the mission "to transform our communities by creating a building industry in which used and excess materials become an asset to our communities and waste is no longer acceptable." Re-Use Hawaii's creation was in response to O'ahu's solid waste issue. 

When you visit Re-Use Hawaii's home page, they explain why solid waste is a problem: 

"Approximately 2 million tons of waste are produced in Hawaiʻi each year. Landfills have either already expanded or are planning to expand to accommodate the growing amount of waste," They write. "And while most household waste is taken to H-Power and burned for energy, the production of waste outpaces the ability to manage it."

To combat the mounting issue of solid waste in our landfills, Re-Use Hawaii utilizes two specific methods: deconstruction and redistribution.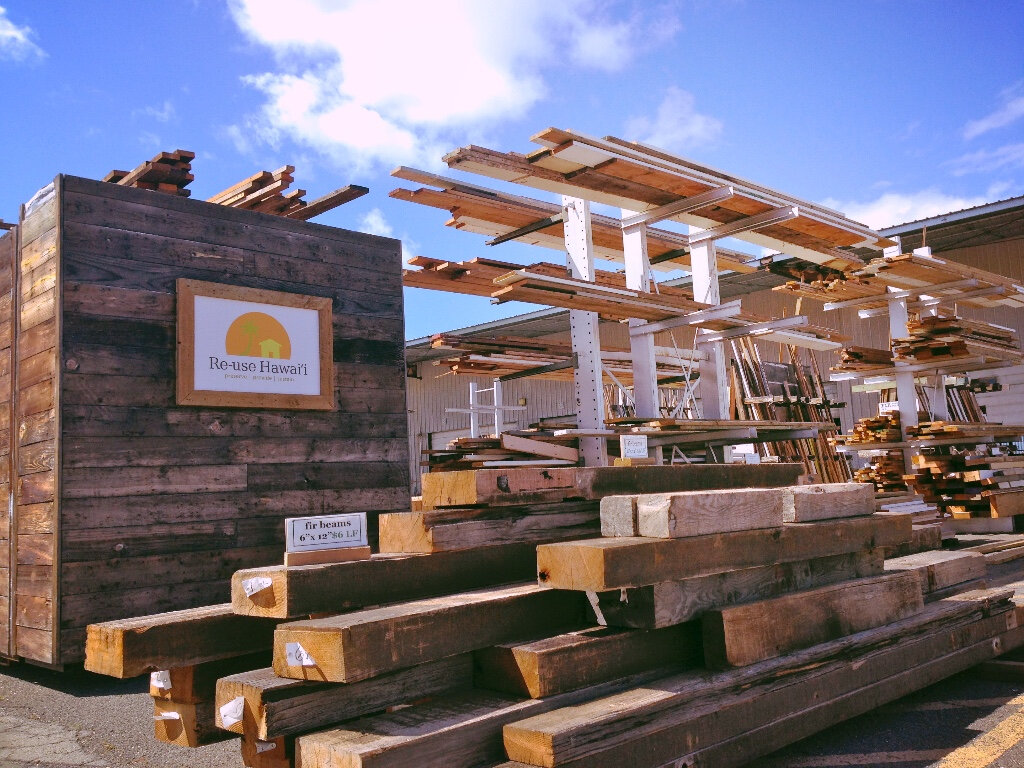 Courtesy of Andy Stenz
As described on their home page: "Construction and demolition activity comprises approximately 30% of all the waste in Hawaiʻi. To address this high percentage of the waste stream, Re-use Hawaiʻi began to offer deconstruction as an alternative to demolition; with the mission of not only diverting construction waste from the landfill, but in doing so offering the recovered materials to the community as an affordable resource." 

Deconstruction is the process of disassembling a structure as a means of recovering as many reusable materials as possible and diverting items from going into the landfills.The materials recovered are then moved into their Redistribution Centers for community members to access at more affordable prices. Currently Re-use Hawaiʻi, a licensed contractor, is the only deconstruction services provider in Hawaiʻi. If you are interested in contracting Re-Use Hawaii for your deconstruction projects, you may send all inquiries to their online form here. 

Additionally, due to Re-Use Hawaii's status as a 501(c)(3) Hawaiʻi non-profit organization, they can provide a "thorough tax-deductible donation receipt for the materials we recover." 

Another way Re-Use Hawaii utilizes the reclaimed lumber from deconstruction projects is by creating new furniture from them. Through "The Workshop" and the "artistic and ingenious" eye of Phil Ziegler, their in-house craftsman, the lumber and raw materials are transformed "into beautiful and functional pieces for commercial and residential spaces." Re-Use Hawaii has worked with a plethora of businesses and crafted "pieces that reflect their own unique styles and their commitment to sustainability." These businesses include Kona Brewing Co., Kuilima Farms, Howard Hughes Corp., and HEMIC. Phil and The Workshop are based on O'ahu, but they have plans to expand to Kailua-Kona in the future. That said, The Workshop can create products for folks across the Hawaiian island chain. If you are interested in participating in The Workshop, visit Re-Use Hawaii's "The Workshop" tab for more information and a link to their online inquiry form.

They also take donations of home goods and materials including but not limited to cabinets, flooring, countertops, furniture (i.e., dressers, tables, bed frames, etc.), and appliances. Tax-deductible donation receipts are also available. For those on O'ahu, you may bring your donations to Re-Use Hawaii's location in Kaka'ako or request a pick-up between Monday and Friday at no cost. To see general donation criteria, visit their "Donate Materials" tab. Items that are donated are also available for purchase at their O'ahu location.

For our communities on the Big Island, it is suggested that those interested in donating contact Damian Bilardo, the Kona Yard Manager, to coordinate. Damian can be contacted at the following number: 808-208-3757.

A fun fact: We went to Re-Use Hawaii to help furnish our boutique on Bethel St.!
Courtesy of Andy Stenz

With their core rooted in reducing waste in a sustainable way, Re-Use Hawaii is dedicated to making a difference and contributing positively to our future.

"As an island community, we are isolated and therefore vulnerable to market conditions and natural disasters. We are more than 90% dependent on imported foods and other goods. There are many local organizations working to make Hawaiʻi more sustainable, and Re-use Hawaiʻi will continue to work to provide resources and services that increase our independence and community resiliency by providing the means for our residents to participate in a strong, circular economy."

Want to visit and support their mission? Re-Use Hawaii's Redistribution Center is open Tuesday through Saturday from 9 a.m. to 5 p.m., and the Hawaiʻi Island Redistribution Center is open Monday through Friday from 7 a.m. to 4 p.m. You can join their email list and keep in touch via Instagram, where they are running an Earth Month bingo throughout the month of April (winners get an in-store discount and a giveaway entry)!

Hānai Kaiāulu 
Courtesy of Hānai Kaiāulu (Instagram)
For those not located on the Big Island but reside on O'ahu and are interested in processing your cardboard in a sustainable way, Hānai Kaiāulu works with Circlepack to provide communities in the Gathering Place their services! If their name sounds familiar, then you may have seen Camille, our founder, talk about how they helped her repurpose 80 pounds of cardboard! 

Operating at Nanakuli High School, Hānai Kaiāulu's" composting program engages and educates the community in food systems and community sustainability." They also provide "...solutions that empower individuals/businesses to capture organic waste and retain it as a community and sustainable resource, while supporting the social, economic, and environmental well-being of Hawaiʻi's diverse communities.
Courtesy of Hānai Kaiāulu (Instagram)

Using a machine provided by Circlepack, the community can drop off their cardboard for the program to shred. The shredded material is then used in their garden to help grow their produce. Whenever supplies are available, they will give you produce from their garden in exchange for your cardboard. This cultivates a close-knit relationship within those on-island and perpetuates a sense of community and aloha ʻāina. 
Keep up with Hānai Kaiāulu on their website and on Instagram! 
|
Posted on March 21 2022